PG&E Public Safety Power Shutoff Support
Are you prepared for the next Public Safety Power Shutoff?
ILRSCC is partnering with PG&E, MCE (mceCleanEnergy.org ) along with other community organizations to help people with disabilities be prepared by:
Receiving ILRSCC support in the event of Public Safety Power Shutoff (PSPS) or disaster.
Signing up for the Medical Baseline Program to lower the rate on your monthly energy bill, if you require the use of a medical or life support device.
Accessing backup portable batteries for those who require power for medical reasons. Individuals who use life-sustaining electrical support will be the highest priority.
Learning more about MCE to improve energy efficiency, health, and safety in your own home.
Providing tools to help you create a disaster plan, including a personalized disaster kit.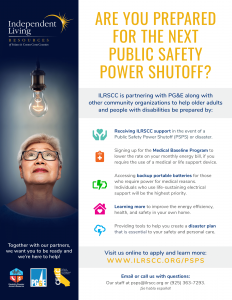 Are you prepared for the next Public Safety Power Shutoff?
View Medical Baseline COVID 19 Application
Requires heating and/or cooling: Standard Medical Baseline allowances are available for heating and/or cooling if the Medical Baseline Resident is a paraplegic, quadriplegic, hemiplegic, has multiple sclerosis or scleroderma.
Email or Call Us with questions 925-363-7293
Additional Languages